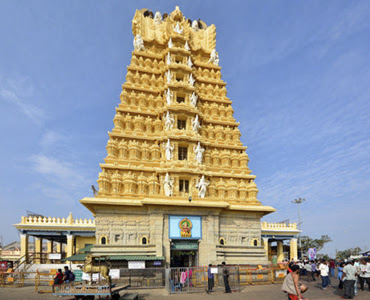 The Chamundeshwari Temple is a Hindu temple, Chamundi Hills is one of the landmark tourist attraction of Mysore. It is located about 13kms South east of Mysore city, state of Karnataka, in India. It's just 14.4 km away from hotel National Residency.
Chamundeshwari Temple is a Hindu temple, you can climb up a flight of 1001 steps or drive up a hill road. When you reach about halfway up the hill, you will come across a small Shiva Templeharajas, statue of bull Nandi, the vehicle (vahana) of Lord Shiva, which is carved out of a single piece of black granite. Original shrine is said to be built in the 12th century by Hoysala rulers, while its tower was probably built by the Vijayanagar rulers of the 17th century.
The temple is a fine example of Dravidian ,this temple is dedicated to goddess Chamundi for celebrating her victory over the demon Mahishasura. This temple has a background of over 1,000 years. Since the early days of the Maharajahs of Mysore, the idol of goddess Chamundi has been carried on a decorated elephant as part of the celebrations in the annual Dusshera festival.From the peak of the Chamundi hills, the Mysore Palace, the Karanji Lake and several smaller temples are visible.