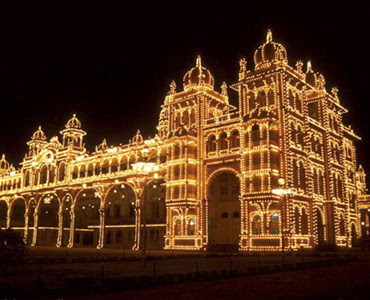 Mysore Palace is located in the heart of the city. It is 107 years old and one of the largest palaces in Karnataka, also known as Amba Vilas Palace, and was the residence of the Wodeyar Maharaja's of the Mysore state. It's just 3.8 km from hotel National Residency.
Mysore Palace or the Mysore Maharaja Palace is a royal residence and a historical palace at Mysore, state of Karnataka, in India. This Palace is said to be one of the biggest palaces in the country. The Old Palace or the Wooden Palace, was burnt into ashes during the 1896 Dasara festivities, then Krishnaraja Wodeyar and his mother Maharani Kempananjammanni Devi, said the British architect Henry Irwin to bulid a new palace, in the year 1912 for the 24th Ruler of the Wodeyar Dynasty and now it is 107 years old.
The bulk of the palace is made of granite. The monolithic lion statues are made of bronze. The function hall (kalyan mantapa) has cast iron pillars. The doors are made of rosewood with beautiful carvings. Entry fee is – Rs.10. Palace is daily open from 10:00 am to 5:30 pm, Camera not allowed and the best time to visit the city is in Monsoons and Winter. Currently, a major portion of the palace is under the control of the Government of Karnataka and the present King is Yaduveer Wadiyar.