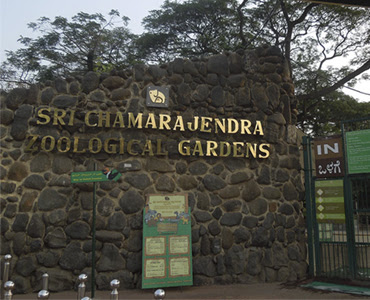 This century-old Zoo has nearly 2000 animals.This garden stands to the east of the fort at a kilometer. It is known as Sri Chamarajendra Zoological Gardens. This zoo is just 4.9 km away from hotel National Residency.
Sri Chamarajendra Zoological Gardens at Mysore city, of Karnataka, in India, is special the Zoo's meticulous planning is responsible for making it a special zoological garden. It tends to create a natural habitat for the animals in it.All the animals in the zoo are well kept and generally healthy.
There is a fine collection of animals, birds and snakes, which include Lions, Tigers, Rhinos, Kangaroos, Hyaena, Deer, Elephants, Peacocks, Swans, Pythons,King Cobra, etc., Arrangements are made for some of the animals, especially for Lions and Tigers, to roam about in liberty. It is closed on Tuesday. Mysore zoo timings are 8:30 AM to 5:30 PM. It is currently an abode to 1,450 specimens of animals and birds consisting of 168 species belonging to more than 25 countries.